Cancun is plain of wonderful places to visit. When you visit this paradise there are places you should not miss in Cancun. I'll show you them.
L
as coloradas
Hidden away in a paradisiacal corner of the Yucatan Peninsula. There are the stunning pink lakes in Mexico, formally called Las Coloradas. The mesmerizing landscape is famous for its cotton candy colored waters, pastel blue skies, and soft white sand beaches. The lakes are part of the Ria Lagartos Biosphere Reserve which is a protected UNESCO Biosphere. Las coloradas are the home to an array of exotic and beautiful animals. In this place we can find flamingos, crocodiles, jaguars, sea turtles, and all different types of bird.
Places you should not miss in Cancun
As well as being aesthetically stunning and a dreamy backdrop for vacation photos, there is also a great deal of fun to be had at Las Coloradas! We have created a useful guide on visiting the pink lakes and answering the most frequently asked questions!
Where are the Pink Lakes Located?
The pink lakes in Mexico are located in the northeast of the Yucatan Peninsula, next to the quaint fishing village of Las Coloradas. The pink lakes are a destination spot that are perfect for a day trip or to spend the night. It's not an area that you stumble across.
Las Coloradas is approximately a 3 hour and 30 minute drive from the city of Cancun and a 3 hour and 15 minute drive from Playa del Carmen. Although a reasonably far distance. You can arrange transportation to the lakes easily, as most tour guides offer fantastic Las Coloradas experiences.
What Can I do at the Pink Lakes?
Places you should not miss in Cancun
The pink lakes of Las Coloradas are not abundant in activity and adventure like other touristic areas of the Yucatan Peninsula. You won't find theme parks, ATV tours, or parasailing there.
Places you should not miss in Cancun
Instead, the dreamy area embraces the exclusivity and tranquility. The prime focus is admiring the romantic lakes, picturesque scenes, and wildlife. There is a small, yet idyllic beach area located in the Las Coloradas town that offers the ideal opportunity to sit back and embrace the ambiance.
Nichupté Lagoon
Nichupté Lagoon is a real natural paradise located in Cancun. Not only will you witness one of the most beautiful landscapes on the Riviera Maya, but you can also enjoy a wealth of activities. Because of this, it's an ideal place to visit whether you're traveling with your family, as a couple, or with friends. Discover all it has to offer!
Places you should not miss in Cancun
The natural charms of Nichupté Lagoon
Nichupté Lagoon is made up of seven lakes. Their names are Cuenca del Norte, Cuenca del Sur, Cuenca Central, Río Inglés, Bojórquez Lagoon, Laguna Mediterránea, and Laguna de Amor (Love Lagoon). The name of the latter is due to its heart shape. All of them occupy an area of 3,000 hectare. Also they communicate with the Caribbean Sea through two canals (Nizuc and Sigfrido).
Places you should not miss in Cancun
Likewise, Nichupté Lagoon serves as a natural border between the city of Cancun and the hotel area. As well as being a habitat for a great variety of animal species. Like leopard frogs, white turtles, crocodiles, blue crabs, and various types of birds. How many will you be able to spot during your visit?
Places you should not miss in Cancun
Activities in Nichupté Lagoon
One of the best ways to tour Nichupté Lagoon is by speedboat. To do so, you should hire a tour that departs from the dock located on Kukulcan Boulevard in Cancun. All boats, which can hold a maximum of two, must follow the route set out by the guides.
Places you should not miss in Cancun
During the activity. You'll sail over the Nichupte Lagoon. Enter into the mangroves to contemplate the wonderful intense green landscapes. Besides you'll snorkel in Punta Nizuc to observe the area's underwater fauna. You'll be provided with all the necessary equipment, and so you'll be able to enjoy it without having to worry about a thing. Another great option to see the Nichupté Lagoon is by kayak.
Places you should not miss in Cancun
The possibilities don't end there, because there are still more activities to enjoy on the Nichupté Lagoon. Like flyboarding, sport fishing, water skiing, to name but three. Afterwards, to recharge your batteries, why not go to one of the restaurants located next to the lagoon? You'll be able to taste a great variety of quality fish and seafood. Could you ask for more?!
Recommendations for visiting Nichupté Lagoon
It doesn't hurt to follow a series of recommendations to make your visit to this natural paradise in Cancun a real success. Use mosquito repellent and sunscreen, follow the guide's instructions at all times and, above all, be respectful of the environment. If you bring food or beverages, make sure you have somewhere to keep the rubbish until you can deposit it appropriately when you get to shore.
Places you should not miss in Cancun
You should wear comfortable clothes, and don't forget your bathing attire for the water activities in the lagoon. Make sure you've got plenty of charge on your camera or cellphone too – you'll want to take lots of pictures!
Holbox
Isla Holbox is Paradise. You've never heard of it? Well, imagine a happy island with no roads, white beaches fringed by palms, flamingos, breathtaking sunsets and colorful cocktails sipped on a hammock. This is Holbox, Yucatan's best-kept secret… that without a doubt, should be in your Yucatan road trip itinerary.
They say Isla Holbox is going to be the "next Tulum", but I really hope they're wrong. As much as I love the hippie-chic vibe of Tulum, what makes Holbox so special is the lack of crowds, of all-inclusive resorts, and that chill atmosphere that reminded me of beach towns in Southeast Asia such as Phi Phi Island and Koh Tao.
Places you should not miss in Cancun
Part of the Yum Balam Nature Reserve, this place is as Caribbean as it gets in Mexico. An idyllic white sandbank in the middle of the ocean brings you right to Punta Mosquito, where if you're lucky. You'll be able to spot the beautiful flamingos. Don't expect anything like the Aruba's flamingos though – these are wild animals, and won't let you get very close to them. Locals say you can find some all year round, but officially the Holbox flamingo season is between April and October.
Places you shouldn't miss in Cancun
Getting to the flamingos in Holbox isn't super easy, but the walk is beautiful. Park your bike or golf cart at Las Nubes de Holbox hotel. (you can't go any further) You get ready for a 1-hour walk. From the beach, walk towards the sandbank which is easily visible and just keep following the sandbank till you get to the tip. You will walk through water but it's usually ankle- or knee-deep – it's a good workout!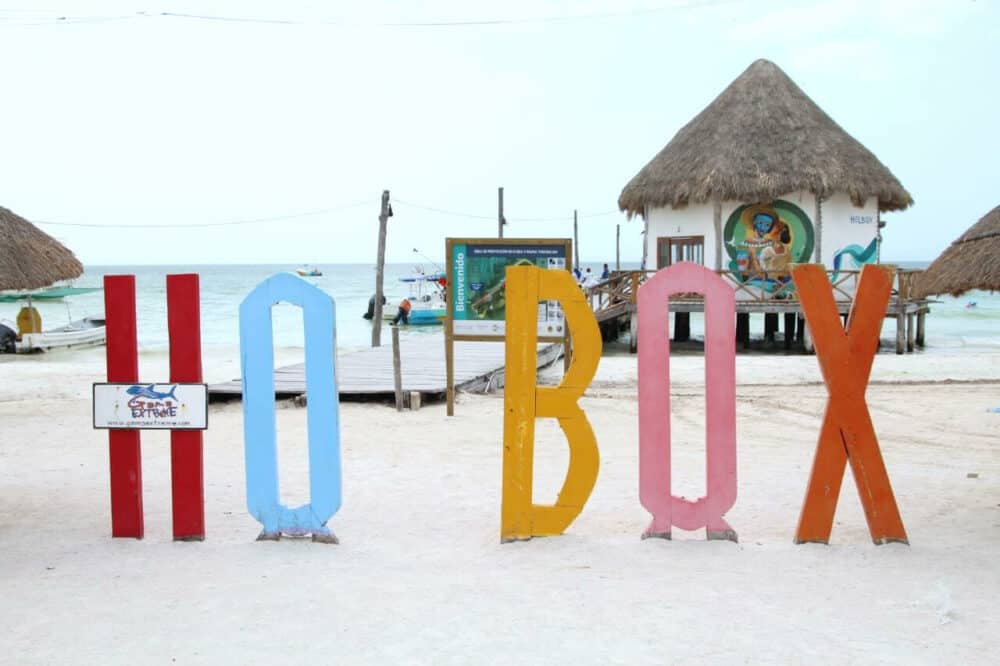 Places you should not miss in Cancun
Just beware that the tide goes up in the early afternoon. You won't drown if you stay longer but if you have electronics with you it might not be the smartest idea. We did indeed get stranded with the drone and had to cross a crocodile-infested lagoon… but that's a story for another day.
Relax at the beach in Holbox
Duh! What did you come to Isla Holbox for? Wherever you are staying, you'll have easy access to the beach (max a 5-minute walk). Any spot on Playa Holbox is pretty nice, but most of the beach is private-owned. Besides you'll have to get a drink/food in order to use the facilities.
Places you should not miss in Cancun
If you're feeling a bit more adventurous, drive your bike or golf cart to Punta Cocos. Bring beers and stay for sunset, you won't regret it!
What are you waiting for? Come and take a long and relaxing vacation in this real paradise. Then don't forget check out our main page www.mycaribbeandeals.com.