The best beaches in Cancun
Are you in Cancun? or Are you planing to visit us? Then let me show you one the best beaches in Cancun.
Holbox
If you want to meet a real paradise on earth. Then come to meet Holbox and you will relax with the beautiful landscapes and beaches. But first things first, where is Isla Holbox? The island of Holbox (pronounced like "Holbosh") is in Mexico on the Yucatan Peninsula in the state of Quintana Roo. Besides this area is a popular tourist and holiday destination thanks to the warm Caribbean Sea and beautiful beaches. Also It's one of the best islands in Mexico and I'm hoping it manages to retain its charm as tourism to the island increases.
The best beaches in Cancun
Isla Holbox is about 2 hours north of Cancun and Playa del Carmen, and it takes about 2.5-3 hours to get to Isla Holbox from Tulum. Since it's an island and there are no bridges. It's important to know you'll also need to get a short, 20-minute ferry ride from the port town of Chiquila, Mexico. There are two Isla Holbox ferry companies that run the exact same service for the exact same price. The difference is that one Chiquila to Holbox ferry runs on the hour and the other Holbox Island ferry on the half-hour. Please don't forget take this in count when you arrive to the port.
The best beaches in Cancun
Just relax and do nothing
The main reason behind our Mexico trip was to have a 'proper holiday'. Besides one where we didn't really plan to do much and just relaxed. If you know us, you know this is pretty unlike us but we managed to do a lot of nothing on our week in Mexico. Isla Holbox is the perfect place for doing nothing. It's not that there aren't lots of other things to do on Isla Holbox. It's just that the slow island pace and the beauty of the beach make you want to relax.
The best beaches in Cancun
Akumal beach
Our second stop is the picturesque beach community of Akumal, a beautiful natural reserve and one of the only spots in Cancun to swim with sea turtles. Its laidback atmosphere, natural beauty and abundant marine life provide the perfect environment for some of the best snorkeling available in the Mayan Riviera.
Akumal was founded in 1958 so it is quite a bit older than Playa del Carmen, Tulum, and Cancun. It was actually founded by a scuba diver as a base for him and other divers. Akumal beach is a public beach so you do not have to pay an entrance fee to be on the beach. You can not buy a beach in Mexico. However the land next to the beach is available to buy and much of it has been bought by private companies, including hotels and resorts.
The best beaches in Cancun
The best beaches in Cancun
The most common sea turtles you will find in Akumal are green sea turtles. They live in the bay while they are still juveniles. Think of Akumal as a middle school for Turtles. The bay is full of teenage turtles who live here until they become adults. At this point, they will leave the bay for the open water to find a mate.
Akumal' is a Mayan word which translates to "place of the turtles". This place certainly lives up to its name! Green Sea Turtles have been around for over one hundred and ten million years – since the time of the dinosaurs.
During the months of May and October, the turtles lay their eggs in the sands of Akumal Beach. Once hatched, the baby turtles dig themselves out, then hurriedly scramble down to the sea to avoid predators.
The young turtles set their internal GPS as they leave. Once matured, they return to exact same beach to lay their own eggs.
The best beaches in Cancun
Swimming with turtles
Swimming with turtles in Cancun is an experience to help you understand the beauty of nature embodied in marine life. An activity that leaves learning to people of all ages.
Ideal to enjoy with family, friends, or that special person. The Akumal turtle tour is an excellent option to enjoy a full day of contact with nature.
Whether you join our snorkeling tour to Akumal, or do a tour with another company, there are some things you need to be aware of to minimize your environmental footprint on this site and the turtles who live there.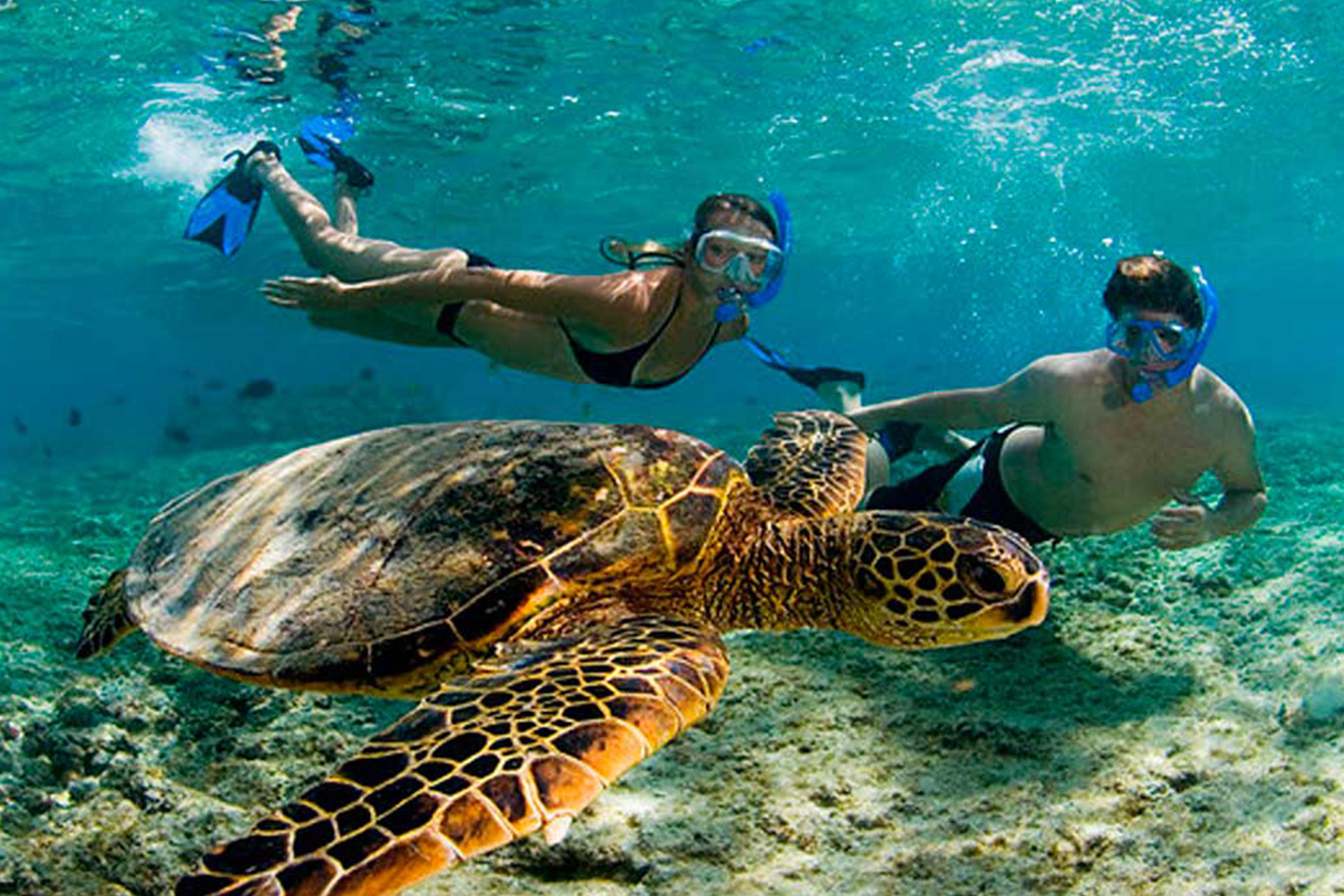 The best beaches in Cancun
Rules Before Snorkeling
No human contact with the turtles – People think if they are touching the turtles it's ok. It seems to be in our human nature to want to touch everything. Please NO TOUCHING.
No peeing in the water. Seriously. Don't do it.
No sunscreen. Not even the reef-safe stuff. Wear a rashguard and put on your sunscreen after the tour. Even the reef-safe biodegradable sunscreen takes 1-2 weeks to dissolve. The Akumal turtles don't want to eat your sunscreen.
The best beaches in Cancun
If you are snorkeling, stay horizontal, don't chase the turtles or touch them, and try to not stir up the sand. The ecosystem is very fragile there and easily damaged if you aren't careful. Pay attention, I've seen people accidentally kicking a turtle with their fins while adjusting their mask or other parts of their equipment. Please don't be that person!
And lastly please remember to stay 6 ft away from the turtles.
The best beaches in Cancun
What are you waiting for? Come and take a long and relaxing vacation in this real paradise. Then don't forget check out our main page www.mycaribbeandeals.com.