Top 3 places to do snorkel in Cancun
If you love to snorkel and meet the beauty of the sea. Come with me I will show you the top 3 places to do snorkel in Cancun.
Number one Akumal
Akumal is known as the 'Place of the Turtles' but it is also the home of Yal Ku Lagoon. Akumal is a unique snorkeling adventure in a coastal lagoon. We love that Yal Ku adds to your turtle snorkeling in Akumal Bays and compliments your vacation activities.
Yal Ku Lagoon is a inland lagoon that connects to the Caribbean. Fresh water from surrounding cenotes escapes to the sea in this area. The result is a calm waterway that mixes both fresh and salt water. It called brackish water and creates a home for many fish species. This natural estuary is full of both fresh and salt water fish. In adition the area isn't deeper than 10 feet/4 meters. Families, beginner snorkelers or those seeking calm waters with an easy entrance gravitate to the area in search of fish and sea life. In addition the lagoon has local a lot sculptures, small sandy beaches, and hammocks.
Top 3 places to do snorkel in Cancun
This area has calm waters for new snorkelers. Besides it's easy water entry for young children. Also there are enough sea life to keep the advanced snorkeler entertained. The water is brackish so be prepared for cooler waters than the sea, but warmer waters than the cenotes. Visibility is also different than other bodies of water. It lies between the clarity of the cenotes and the slight haze found in the ocean.
Number two Tulum

The Tulum we know today owes much of its wondrous culture and beauty to the ancient Mayan civilization. The once sleepy fishing village has become quite the eco tourist hot spot for good reason. Also with their archeological sites and ruins nestled along the coast. You can overlooking the turquoise Mexican-Caribbean Sea and access to plenty of unique snorkeling and hiking opportunities.
Top 3 places to do snorkel in Cancun
Although the incredibly well-preserved ruins and laid-back beauty are part of what makes the area so popular. It's the wonderland of coral reefs, underground rivers, and stalactite caves that attract ocean-lovers from all parts of the world.
Dive into hidden cenotes surrounded by impressive rock formations. Start your journey on a speed boat to explore the nearby coral reefs. You will swim alongside cruising turtles making their way back to the deeper waters.
With plenty of opportunities to be underwater, this guide provides the ultimate snorkeling spots for all levels. Whether you're an expert or novice. You'll find an incredible selection of reefs, bays, and caves to snorkel during your stay in Tulum.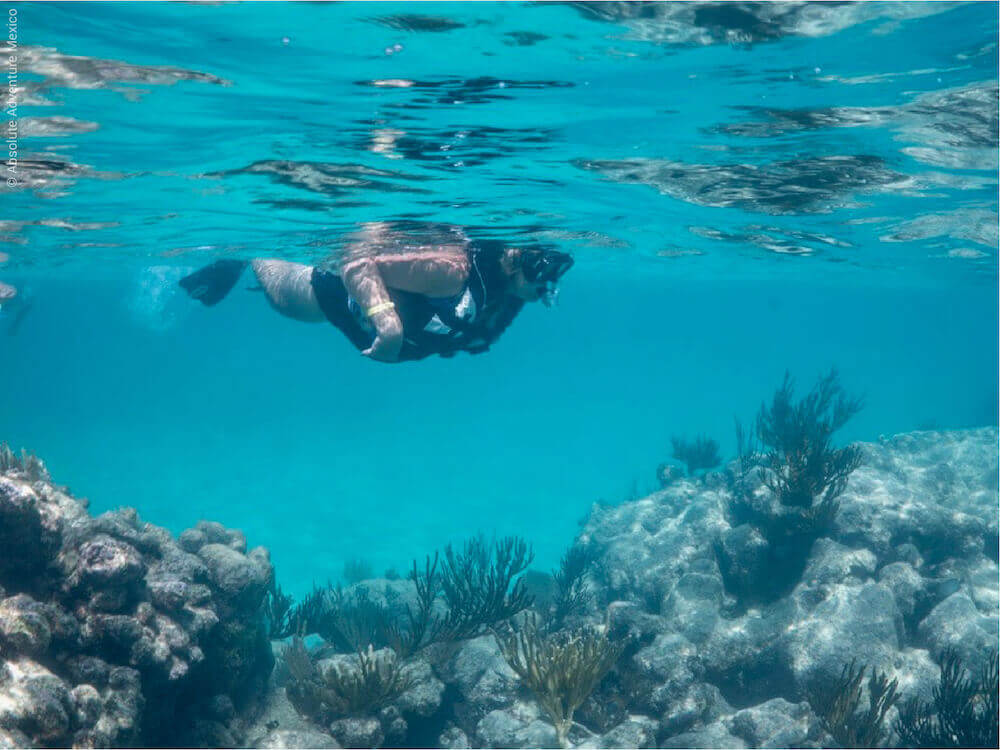 Top 3 places to do snorkel in Cancun
Where to Snorkel

While the shores of the hotel zone are are famous for their laid back vibe with plenty of fun beach clubs and relaxing eco resorts offering everything from yoga retreats to cool glamping experiences in Tulum, not many people know that a few feet from the beach lies a beautiful snorkeling spot. Many of the large tour companies didn't frequent this place, so it's easy to miss this hidden gem.
To get to the reef, snorkelers can join a local agency tour that takes you on a short boat trip to the reefs. Usually, the tour has a trip to a lagoon to see the ruins that line the coast. Top 3 places to do snorkel in Cancun
Top 3 places to do snorkel in Cancun
Also you will explore the beach and the reef, but make you sure don't to snorkel past the reef. Nonetheless, the gentle waters are beaming with colorful coral and purple sea fans swaying with the current.
As you near the reef, you'll notice straight away that the waters become busier with schools of fish. If you know your fish species, some of the locals you might discover are French angelfish, Foureye butterflyfish, Atlantic blue tang, and Sergeant major.
With easy access, and close to Tulum beach, snorkeling in this little gem provides you with the perfect experience of life underwater in the Caribbean.
Top 3 places to do snorkel in Cancun
Number trhee Holbox
Swimming with whale sharks off the coast of Cancun. Is one of the best things to do in Cancun. Top 3 places to do snorkel in Cancun

Come snorkel and swim with these magnificent creatures. They can measure around 40 feet and weigh as much as 10,000 pounds. Despite their enormity, these docile giants calmly roam around the Caribbean Sea looking for plankton and krill, not worrying too much about humans or other animals.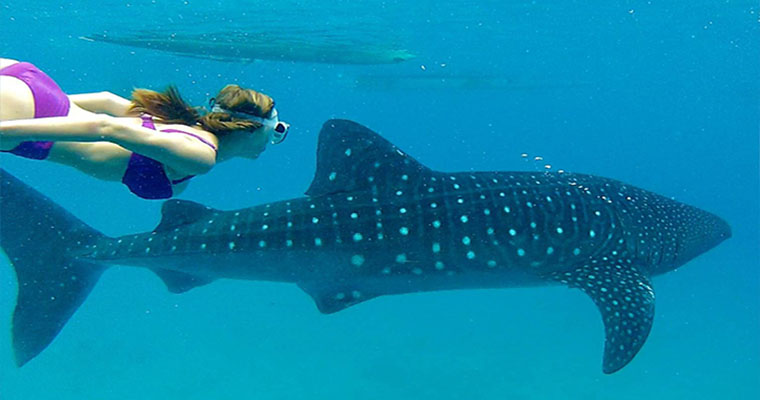 Top 3 places to do snorkel in Cancun
Hopping on to a small boat very early in the morning as the sunrise tenderly colours the sky, and the sea reveals its million shades of blue, to arrive at the whale shark site, is a jaw-dropping journey. Sometimes we don't take the time to stop and realise there's so much to see and enjoy around us, until the opportunity presents itself. The landscape of the Caribbean is so beautiful that some even think that the tour could finish there and still be satisfied. There's always beauty hidden along the way, and we're so worried about the destination, that we tend to miss the details. This experience lets travellers reconnect with that feeling. Top 3 places to do snorkel in Cancun
An unforgettable experience
Once at the whale shark site, adventurers take turns to hop into the water with these gentle beasts. This way, the whale sharks don't feel threatened, and travellers get to live an authentic up-close experience. Don't get us wrong: even though these animals are harmless, their imposing size makes you think twice before taking the leap of faith into the water. Fortunately, the experienced guides know how to make travellers safe, and there's really no time to be afraid of these harmless creatures! Once in the water, people realise there's no reason to be so.
Top 3 places to do snorkel in Cancun
Snorkelling makes for a great exercise of meditation. The feeling of breathing underwater one breath at a time, lets you find the value of an instant and how the present is continuously becoming the past. This is a really unforgettable experience.
What are you waiting for? Come and take a long and relaxing vacation in this real paradise. Then don't forget check out our main page

www.mycaribbeandeals.com

.